n-Track Studio for iPhone, iPad & iPod Touch
The first pure DAW (Digital Audio Workstation) to be available for Windows, Mac & iOS devices.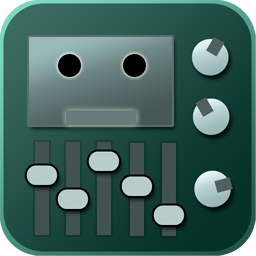 Buy NOW n-Track Studio for iPhone, iPad & iPod Touch from the App Store (only US$5.99!)

The iOS version has the core functions such as multitrack recording & mixing, and can export
recordings in mixed down wave or even in multitrack .sng format so that you can load the multitrack projects with the PC (Windows & Mac) version of n-Track.
Records from device builtin mic or from up to 48 audio inputs (with external audio interface & iPad camera connection kit)
24 bit & 192 khz capable (frequencies above 48000 hz require an external audio interface)
Supports Audiobus: receive input from 3rd party iOS music apps


Volume/pan envelopes automation
Import and export .wav, .aif & .m4a audio files
Import from iTunes library or using iTunes file sharing
Single click mixdown & send song via email
Builtin effects include: Reverb, Echo, Chorus+Flanger, Tremolo, Pitch Shift, Phaser, Tube-Amp and Compression
EQ + Spectrum analyzer
Builtin chromatic tuner
Use group channels to group and process tracks together
Allows monitoring and processing live audio input with near-zero latency
Audio copy & paste to exchange audio files with other apps
Buy n-Track Studio for your iPhone (3GS, 4, 4S, 5), iPad and iPod Touch downloading the app from the App Store. Don't forget to leave a positive review if you find the app useful!
Please let us know if you have comments or bug-reports about n-Track Studio, we are continually working on improving n-Track and your feedback is greatly appreciated.

Find out more about n-Track for iOS in the iOS User Guide
Screenshots for n-Track Studio for iPhone, iPad and iPod Touch
(click on a screenshot to enlarge)
n-Track for iOS Video Tutorial (user contributed)
---


n-Track for iOS was chosen as one of the best iOS Audio Apps by iDesignSound

Use n-Track for iOS with the iRig Mic!

iRig Mic is the first handheld, quality condenser microphone for iPhone, iPod touch and iPad


n-Track iOS apps work great with the iRic Mic, the device built-in mic or any external mic