Guitar Amp
Make your guitar sound huge by choosing among great amp head simulators, and different modern and vintage cabinets inspired by classic models.
Bass Amp
Ever felt your bass recordings needed that extra drive, lowend or grit to sit nicely in your mix and surprise your listeners? Well, you're going to like this!
VocalTune
Instantly correct pitch incorrections on vocals or other melodic parts.
Screen drumkit
Play percussive instruments with your fingers thanks to the on-screen drum controller. There's an acoustic view and an electronic one.
Export at high quality
Export your multitrack project at 24 and 32 bits
Step Sequencer
Create beats, melodies and arpeggions with just a few taps
Advanced Routing
Get creative with internal routing (record/bounce any track, group or AU/interapp instrument to an audio track)
Songtree integration
Make music online with a community of talented musicians
Improved MIDI and Audio editing
Write notes precisely with the new MIDI step recording feature, or draw your audio clip fade in/out curves
Instrument browser
Instantly add instruments to your project for immediate creativity
New and improved UI
n-Track Studio 8 has a new slick graphic skin
Features
n-Track Studio for Android is an audio and MIDI multitrack recorder that turns your device into a full-fledged recording studio.
Record and playback a virtually unlimited number of tracks, mix them during playback and add effects. Create MIDI tracks using the built-in General MIDI synth. Edit, cut, copy and paste, zoom and drag MIDI and audio parts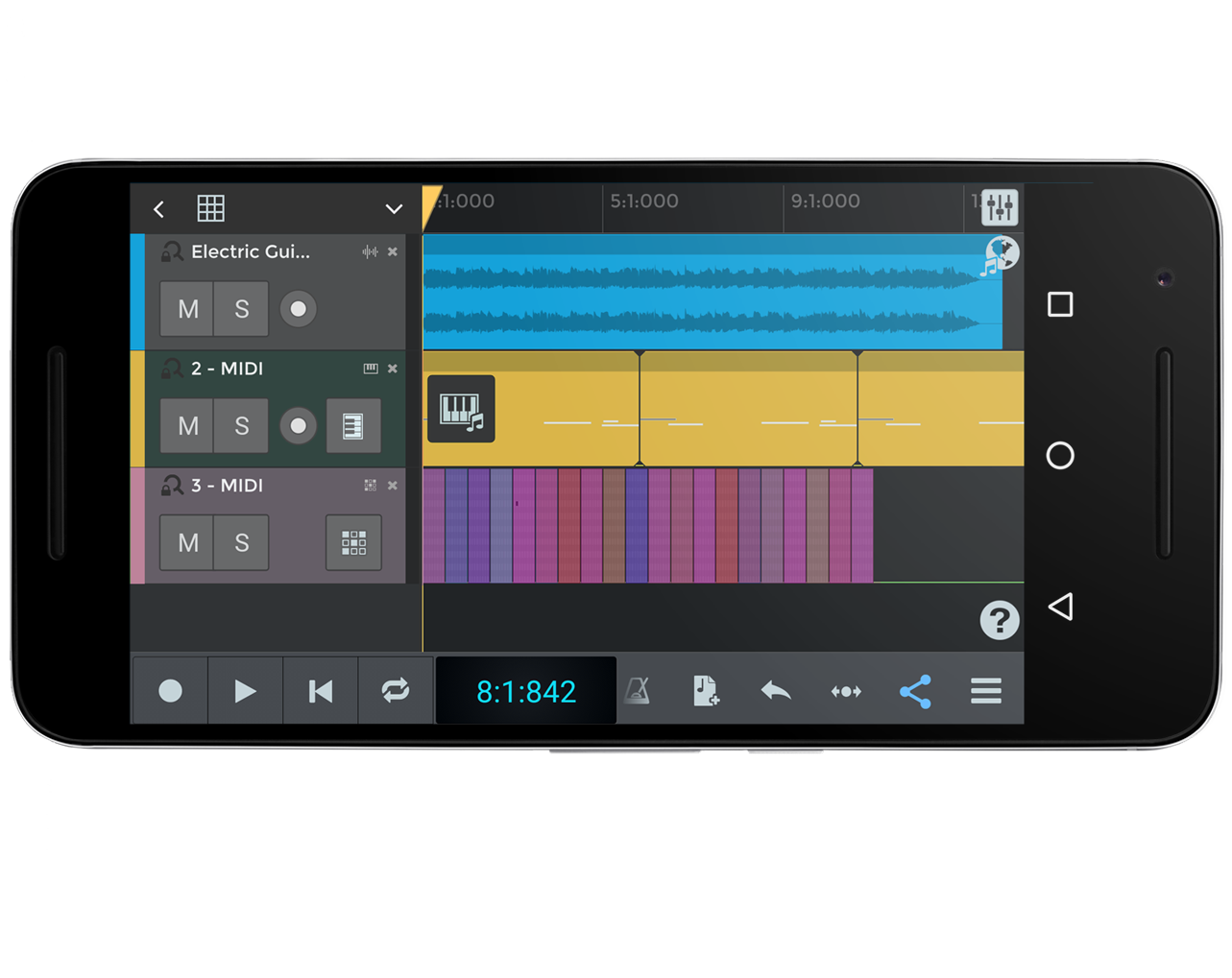 Record with the built-in mic or any class-compliant USB audio device (requires compatible Android & USB devices)
Record 4 or more simultaneous inputs, multichannel output
Low latency audio (bypassing the standard Android audio when using USB audio)
Record MIDI tracks using the built-in screen keyboard or an external USB MIDI keyboard
Advanced audio routing with group, sends and aux channels
Don't forget to leave a positive review if you like the app!
Find out more about n-Track Studio for Android:
© 2019 n-Track S.r.l. | VAT ID IT15290211000